Let the holiday decorating begin! As you decide which pieces will dress up your indoor and outdoor spaces, we're here to point you to fun Christmas products that will jazz up the classic Santa Claus and snowman figures. There are Sugar-Coated LED Gumdrop Christmas Lights that can make your home look like a gingerbread house.
Visions of sugar plums may dance in children's heads the night before Christmas, but gumdrop lights can illuminate your space all season long. The 8-foot-long decoration includes 10 LED gumdrops, which are 8 inches tall and are multicolored, including red, yellow, green, blue, and purple. The outside of each gumdrop has a textured, sugared coating to give it that candy look.
You can find the holiday gumdrop lights on Amazon for $129.99. While one strand can certainly be enough to make a statement on your lawn, you might want to snag two so that you can properly line your walkway or place them along your garden. Wherever you put them, they're sure to make a sweet addition to your decorations.
More From Good Housekeeping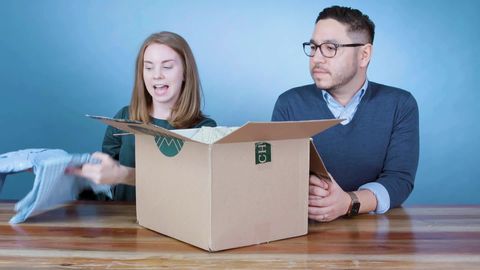 The lights only have 14 reviews on Amazon so far, but they've earned an average of 4.9 out of 5 stars. "The lights are better than I expected. They are large, have a nice strong 'sugar' coating, and are very sturdy. A single string is very long and has 10 lights," one person wrote.
You have to love a quirky, out-of-the-box piece to dress up your décor. Now all we need is to find more pieces to create the ultimate gingerbread house and we're set!
---
We discover. You find.
See what's trending, right now, on Firstfinds.